The Borough is a leader in the protection and care of the natural resources that beautify the borough and create the environment that borough residents have enjoyed for decades. In 2008, the borough council created an Environmental Advisory Council to research and report on the myriad of environmental issues that impact borough residents.
---
Single-Use Plastics Study
---
In late 2016, the Environment and Recreation Committee of Doylestown Borough Council and the Doylestown Borough Environmental Advisory Council (EAC) began discussing and researching the impacts of single-use, non-recyclable plastics including straws, bags, and food containers. This was inspired, in part, by the successful efforts of then-high school senior, Shaylan Kolodney, to convert Central Bucks West's cafeteria from polystyrene trays to reusable trays. During the two years that followed, the EAC met with business owners, hosted a presentation on sustainable restaurant practices, researched life-cycle analyses, encouraged participation in "No-Straw November," and considered viability of alternatives to single-use plastics. Earlier this year, Borough Council's Environment and Recreation Committee tasked the EAC with assembling their findings into a recommendation. The EAC recommended that Borough Council gather public feedback and consider adopting an ordinance to ban the distribution of certain single-use plastics. This includes banning single-use plastic straws, with certain exemptions, and requiring that business owners charge $0.10 per single-use plastic bag, again with certain exemptions. The EAC's recommendation did not include a component for food containers at this time. Along with the recommended ordinance, the EAC proposed measures to educate the public and to support the business community.
A link to the Borough's Single-Use Plastics Community Survey can be found here.
A copy of the EAC's recommendation can be found here.
---
Doylestown Awarded SolSmart Silver Designation

Doylestown Borough has been accepted as a SolSmart Silver Community. SolSmart is a national designation program recognizing communities that have taken key steps to address local barriers to solar energy and foster the growth of mature local solar markets. The program is funded by a grant through the U.S. Department of Energy and is used to provide technical assistance to communities to help streamline the process for property owners to convert to solar PV systems. We now have access to their technical assistance and training programs, which also includes training opportunities for the Fire Department.
Communities are accepted into the program, evaluated based on existing ordinances and policies, and are usually required to make adjustments to earn official designation. Doylestown was accepted into the program as a candidate for Bronze designation. Our Green Points program and the solar provisions in our ordinances qualified us for Silver with just a few minor tweaks to our website and some technical training.
We're currently the only community in PA with a Silver designation, Philadelphia being the one designee with a higher rating. Haddonfield, NJ was also awarded Silver and is the only other town in the Delaware Valley region to achieve a designation higher than Bronze.
A map of designees can be found here: https://www.solsmart.org/our-communities/designee-map/
---
Doylestown Audubon Bird Town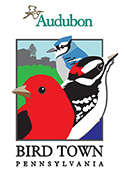 Doylestown has joined the Audubon's Bird Town initiative to promote landscaping systems and restored natural heritage. This initiative is specifically designed to promote improved habitat for the aviary community and, in turn, Borough residents. The program includes review of homeowners' property for bird friendly plantings and other habitat features by a trained Birdtown consultant. Participants in the program will also receive a listing of indigenous plantings that promote bird visitation.
Click here for the latest Birdtown Flyer

---
Chem-Fab Superfund Site
Community Update: 9/12/13 available here.
The Chem-Fab site is located at 300 North Broad Street in Doylestown, Pa. The company operated an electroplating and metal processing facility on the site from 1965 to 1994. Subsequently the property was used to store and dump other waste chemicals. Groundwater underlying the site is contaminated with metals associated with the electroplating process and volatile organic compounds (VOCs), chemicals commonly found in solvents and degreasers. The VOCs also impacted three nearby municipal wells and several residential wells. There is a potential for the VOC-contaminated groundwater to vaporize and enter homes near the site.
The following contaminants have been found at the site: tricholoroethene, hexavalent chromium, carbon tetrachloride, cis- 1,2-dichloroethene, 1,1-dichloroethene, tetrachloroethylene, 1,1,1-trichloroethene, and vinyl chloride.
The Chem-Site was added to the EPA's National Priorities List of most hazardous waste sites in 2008 and clean up is imminent.
---
Energy Audits
The Doylestown Borough Environmental Advisory Committee (EAC) led the completion of an energy audit of Borough Hall in May, 2010. The purpose of this audit was to assess the efficiency of the building and to identify justifiable improvements to lower the building's operating costs. The process and lessons learned can be applied to other residential and commercial buildings throughout the borough. As you will see in the report many areas of potential concern from an energy loss perspective were highlighted then, with the help of the EAC, a plan was developed to address only those areas with a reasonable payback based on energy /utility savings.
---
West Nile Virus
West Nile virus (WNV) is a potentially serious illness that we know has been found in the Borough's mosquito population in the past few years. We are asking all residents to take steps to reduce potential breeding grounds for mosquitos by:
Emptying standing water from flower pots, buckets and barrels.
Change the water in pet dishes and replace the water in bird baths daily.
Drill holes in tire swings so water drains out.
Keep children's wading pools empty and on their sides when they aren't being used.
Clean gutters so they are totally dry between rainfalls.
Survey your property regularly for wet spots.
Contact the Borough using DWorks or by phone or email if you are aware of any standing water in warmer months so we can investigate.