Free Parking
Residents, visitors, and businesses enjoy a variety of free parking options in Doylestown.

Street & Lot Parking
Parking in Borough parking lots and in metered areas is free after 5pm Monday through Saturday, on Sundays and on the following Holidays: January 1, Martin Luther King Day, Presidents' Day, Memorial Day, Flag Day, July 4, Labor Day, Veterans Day, Thanksgiving Day, the day following Thanksgiving, and Christmas Day.
There are also 15 minute free parking spaces for short errands and grab-and-go convenience on State Street, Main Streets, Oakland Avenue, the Plaza East parking lot, and the Dommel Way parking lot.
Free public parking is also available at the Wells Fargo parking lot on West Court Street on Fridays after 5pm, Saturdays after noon, and all day Sunday.
Parking in the Bucks County parking garages at Broad & Union Streets and at Broad & Court Streets is free on Sundays.
Bucks County Parking Garages
The County of Bucks owns and operates two parking garages in the Doylestown Borough at Broad & Union Streets and at Broad & Court Streets.
The larger garage at Broad and Union Streets is available to the public and charges $1/hour 24/7.

The garage on Broad and Court Streets is available to the public Monday thru Saturday from 5pm – 2am at a rate of $0.50/hour and Saturday from 8am – 5pm at a rate of $1/hour. Parking is free on Sundays.
Electrical Vehicle Charging Stations
There are two public EV charging stations in the Doylestown Borough. One is located in the municipal parking lot at Pine & E. State Streets and one is the municipal parking lot at W. State and Hamilton Street.


---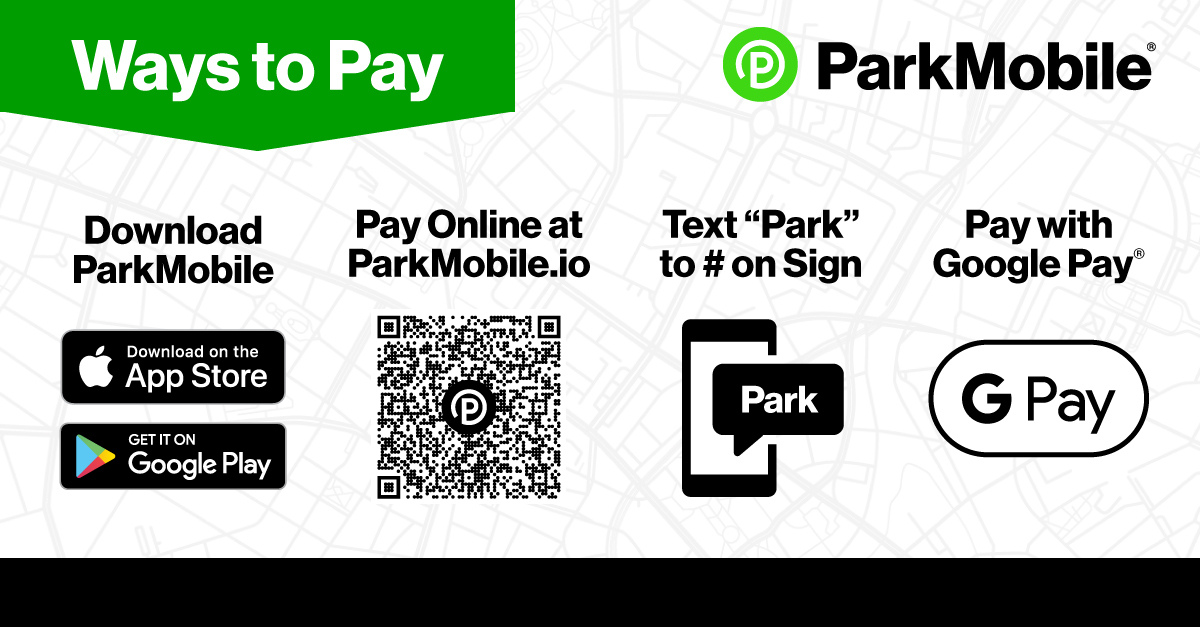 PARKMOBILE
Use the Parkmobile app on your smartphone to pay for parking!
Once registered, you can choose to receive alerts and reminders prior to your parking session expiration.
With Parkmobile's app, parking takes just a few seconds. Learn more about the app and how you can get started here.
---
Metered Parking
Metered parking offers options for time-based parking. Meters are in effect Monday through Saturday 9:00 am - 5:00 pm.
At 3-hour Meters For appointments, shopping, dining, and the movies.

$1.50/hour—accepts credit cards, debit cards, and quarters. Located: Central to the downtown, on-street and in the following Municipal Lots: Court St. / Pine & State Streets / Oakland Avenue & Donaldson Street / Clinton Street.
Also in the Hamilton & State Street Municipal lot, one block from State and Main St., the heart of the downtown. Pay and display the ticket on your dash.
At Designated 10-hour Yellow Banded Meters For employees, employers, and visitors who are here for the day. Results in more parking downtown for customers and clients.
10 Hour Permit Purchase a $60 six-month permit online or at Borough Hall (equivalent to parking at a cost of $0.33/day). Hang it from your rear-view mirror. No coins needed for the meter. Permit is transferable to another car.
Or 10 Hour Meters $0.50/hour – accepts quarters only.
---
Pay & Display Lot
Hamilton & W. State Street Municipal Lot - one block from W. State and Main Street, in the heart of downtown. Metered by machine - pay and then display the ticket on your dash. $1.50/hr, credit cards or coins (no change made).
---
Train & Bus
Pay and Park at Septa Lot. For overnight, use the free spaces on S. Clinton St or Bridge St.
---
Residential Parking Permit
For those who live in areas of town with parking restrictions protecting residential parking. There is no cost but you must provide proof of residency via your vehicle registration for each car. The permit sticker is not transferable. Guest passes are available. Eligible residents can apply at Borough Hall or here.
---
Park Smart, Avoid Fines
The Parking Enforcement Department is in operation from 8:30am to 5pm, Monday thru Saturday.
Tickets issued with a fine amount of $20 include: expired meter OR $10.00 limited time zone.
Tickets with a $50 fine include, but are not limited to: parking in a prohibited area, parking in a residential area, parking more than 12" from the curb, parking left side to curb against the flow of traffic, blocking a driveway or fire hydrant, obstructing traffic, parking on a sidewalk, street cleaning, and parking over the three-hour limit.