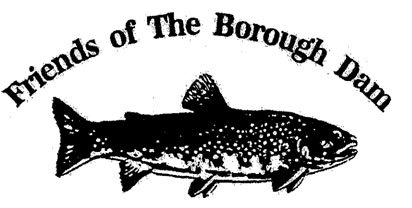 Borough Dam in the Fanny Chapman Park
Boro Mill Hill Road and E. State Street
∙Clean-Up Day: Saturday, March 18, 2023, from 8 am-10 am
(Rain Date: Sunday, March 19, 8 am-10 am)
Volunteers Needed!! Please bring your rakes, etc. and help out.
∙Fish Delivered: Wednesday, March 22, 2023 at 11 am
Bring your children to help stock the fish. Pizza lunch will be provided by Weis Markets, Delizia Pizza, Nat's Pizza, Domino's Pizza all of Doylestown and Dominick's Pizza of Plumsteadville and served to everyone for free.
∙Youth Fishing Derby - Opening Day: Saturday, April 1, 2023 at 8 am
Free for Children Ages 16 and Under
Free burgers and hot dogs, and other refreshments
∙Second Stocking of Fish: Thursday, April 27, 2023 at 10 am
∙Seniors, Handicapped Persons, and Disabled Veterans Fishing Derby: Saturday, April 29, 2023, 8 am
(Rain Date: Sunday, April 30, 2023, 8 am)
Rods and bait will be provided for those in need!
Free Burgers and Hot Dogs and/or sandwiches and refreshments
SPONSORED BY THE FRIENDS OF THE BOROUGH DAM,
DOYLESTOWN ROTARY, DAVE'S SPORTS CENTER, and the BOROUGH OF DOYLESTOWN
Your financial support is needed to keep this program alive!
Please send your tax deductible donation to:
Friends of the Borough Dam
Doylestown Borough Hall, 10 Doyle St., Doylestown, PA 18901
Old/used fishing rods and reels are also needed for use during the derbies. Items may be dropped off at Dave's Sports Center, 1127 N. Easton Road, Doylestown, or at Mt. Lake Pool & Patio, 4140 Skyron Drive. These items will be retrofitted for use by those in need. Donations are greatly appreciated!
Volunteers are also needed for ALL events especially fishermen for the seniors, handicapped persons, and disabled veterans fishing derby.
QUESTIONS: PLEASE CALL GERRY HIGGINS, BOROUGH DAM FISHING PROGRAM CO-CHAIRMAN, AT 267-266-5687